We spend almost a third of our lives in our beds dreaming, sleeping, reading, perhaps sharing a breakfast tray… Therefore, a bed should feel like a haven of tranquility while complementing our bedroom's look. The first step to elevating your bedroom's aesthetic is by swapping your current sheets, duvet cover, pillowcases or pillow shams to set the tone for the style you desire: Whether mesmerizing and colorful, effortlessly opulent or classic and sophisticated, our carefully curated selection has it all and will be the cornerstone of your quest to (re)design your bed.
If you're looking for a splash of color, choose Missoni Home.





John Duvet Cover - King - Color 165 


Opting for eclectic patterns and a varied color palette is the perfect way to transform your bed into the room's focal point. Missoni Home's John collection will brighten up any room with its iconic zigzags and mix of grey, orange and purple hues. The use of the satin weave, which includes looser upper weft threads, gives this duvet cover a smooth and shiny finish, while remaining extremely breathable. Add this stylish duvet cover to your bed linens repertoire for a bed that looks and feels as luxurious as it is comfortable.



Set of 2 John Shams - King - Color 165
Resolutely modern, the John collection's pillow shams will protect your fluffiest decorative pillows while adding some depth and dimension to your bed decor. Made out of cotton satin, which is not to be confused with polyester satin, they'll provide the most comfortable plush accessory to nestle against with one of Assouline's marvelous travel
books
, dreaming of sandy beaches and turquoise waters before drifting into a deep sleep.
Shop all
Missoni Home
.




                                     When you want to transform your room into the epitome of luxury, choose Frette. 





Hotel Classic Bed Set - King - White & White


Frette is the world's most luxurious resorts and hotels' go-to when it comes to bedding: if you want your room to feel like Nanjing's Ritz-Carlton, The Hamptons' Round Tree or Puerto Rico's St. Regis Bahia Beach Resort, start by using the same bed linens such as this set of sheets. Made out of cotton percale, they're the ideal option for those who prefer a lightweight, soft and clean feel to their sheets while sleeping. This set includes a flat sheet, a fitted sheet, and pillowcases, the foundation to an incredibly opulent and soft bedding setup.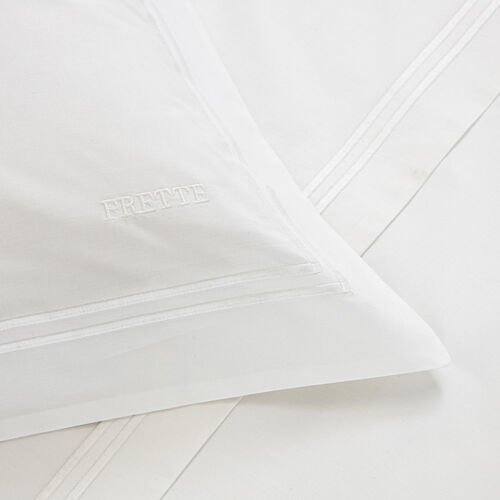 Hotel Classic Duvet Cover - King - White & White
You can't go wrong with a duvet cover made by Italy's most coveted bed linen brand, world-famous after 160 years for its combination of high quality materials and expert craftsmanship. Made out of exquisite cotton percale and featuring two embroidered borders, this duvet cover will give your room an undeniably elegant touch. Complete your at-home luxury experience by protecting your bed with a mattress protector, which will preserve its shape and firmness while preventing any discomfort caused by allergens.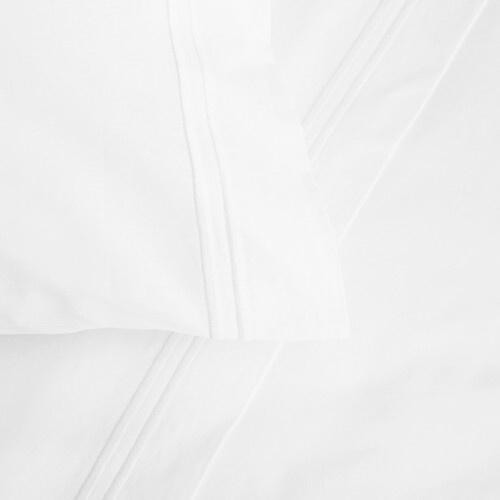 Set of 2 Hotel Classic Pillowcases - King - White & White
Add a pair of pillowcases designed to complete Frette's Hotel Classic collection, but just as stylish paired with any neutral-toned bed setting, to your bed linens closet. Cotton percale is a particularly good choice of material when choosing a pillowcase since its crispness and lightness will keep you from tossing and turning your pillow over, thus interrupting your beauty sleep (and we cannot have that). Its smooth, timeless design will make you feel like Eloise living in her suite at The Plaza.
Shop all
Frette
.





        When you want to feel like you're spending a night at a hotel, choose Sferra. 




Ondate Blanket Cover - King - Titanium


Beautify your bed by adding a blanket cover, which provides a thin, decorative layer on top of your comforter during the colder months of the year and a welcome light one when paired with a simple sheet during the summer. Made out of long-staple cotton, this blanket's long fibers guarantee it won't pill and will even soften after each wash while keeping you comfortable and transforming your room into one that could easily be mistaken for being on a Sofitel's top floor.

Ondate Sham - King - Titanium
Protect your bedding accessories with matching shams. Not to be confused with pillowcases, shams are meant to protect the decorative pillows placed on your bed that you don't fall asleep on. This Ondate model features a delicate pattern evocative of sand dunes or thin tiger stripes (whatever will inspire the most fascinating dreams). Fill the room with this
diffuser
's intoxicating blend of cedar and rose or with this room
spray
's citrus fragrance to truly feel like you just came back from the spa to your hotel room. 
If you're going for a laid-back, cottage-like feel, choose Matouk.
Essex Duvet Cover - Queen - Champagne
Matouk provides countless homes around the globe with high-quality bed and bath linens since 1929. One of the brand's most popular collections is none other than the Essex series: Slip into bed with this snow white duvet cover, adorned with a delicate golden satin stitch embroidery. It'll blend flawlessly into any sober and elegant decor while evoking a luxurious cottage's interior. Made out of long-staple cotton percale, which is made with oh-so-soft Egyptian or Pima cotton, you'll be as comfortable sleeping as you'll be while sitting on your bed relaxing with your pet or watching a movie with a cozy
throw
.
Essex Flat Sheet - Queen - Champagne
A flat sheet is an essential component to a completely fabulous bed set. It's particularly crucial that this layer be made out of high-quality fabric since it's in direct contact with your skin. Matouk's Essex flat sheet's cotton percale guarantees a smooth and breathable feel that'll make you want to stay curled up in bed. Give your room the same look you'd spot at a lavish alpine chalet with this champagne and white sheet. Pro tip: Shorten its time in the dryer and soften the fabric naturally with a set of reusable
dryer balls
.


Set of 2 Essex Pillowcases - Standard - Champagne
Stay cool all night long with these crisp pillowcases. Their golden embroidered border will add a royal touch to your bed's most important spot, where you lay your head. Made out of Matouk's sought-after 350 thread count Sierra material, they'll last many washes while remaining as sumptuous as on Day 1. Plus, they don't wrinkle easily and avoiding sleep lines will be a breeze. Upgrade your sleep quality by pairing them with fluffy 
pillows
for the ultimate Zzzs.
Shop all
Matouk
. 
---